World Class Athletics Returning to Athlone IT
AIT International Grand Prix 2018
 Wednesday the 21st of February 2018
Doors Open: 6pm
Event Start: 6.30pm
                             Ticket Prices:  Seated €20   Standing €10                              
Discounted rates of €15 per Seated ticket are available for purchases of 10 or more. 
Click here: AIT International Grand Prix 2018 Tickets
The 2018 AIT International Grand Prix is guaranteed to be a sell out for the fifth year in a row as athletics fans across the country avail of the opportunity to witness some of the world's best talent on show in the midlands arena. In the past this event has been blessed to have European, World & Olympic Champions, some of whom have broken meet, all-comers and continental records. The recently crowned IAAF World Athlete of the Year and World High Jump Champion Mutaz Essa Barshim will be back to compete at the Fifth AIT International Grand Prix. Basrshim ultimately stole the limelight as he broke the Asian indoor record with a jum,p of 2.41m. Irish interest will be stirred as 2016 Olympian Thomas Barr is lined up to run the 400m.
Sub 4 minute miles have become de rigueur in the men's mile while four of the women's 1500m field ran the World Indoor qualifying standard in 2016. In 2017, World 800m Silver medallist Melissa Bishop didn't disappoint the fans as she won the 800m race in a time of 2:01.42. As the fields for the 2018 event are currently being finalised we can guarantee another amazing night of indoor athletics with some of the sports biggest international and domestic names converging on Athlone. 
AIT president, Prof Ciarán Ó Catháin, said: "We have a really top field of athletes lined up again for the AIT International Grand Prix in February. The fields will be filled with an even deeper level of talent than we have ever had before and that is saying quite something.  We are very excited about the event as are many Athletics fans in Ireland. Ticket prices are very competitive again this year. There are not many events in the world where you will witness such top class sportspeople at such prices".
2018 events are as follows:
Women: 60m, 60mH, Long Jump and 1500m
Men: 60m, 400m, 600m, High Jump, Pole Vault and finally the Mile*.
(*The Mile will also have official timing at the 1500m mark for those looking for Euro Indoor standards etc.)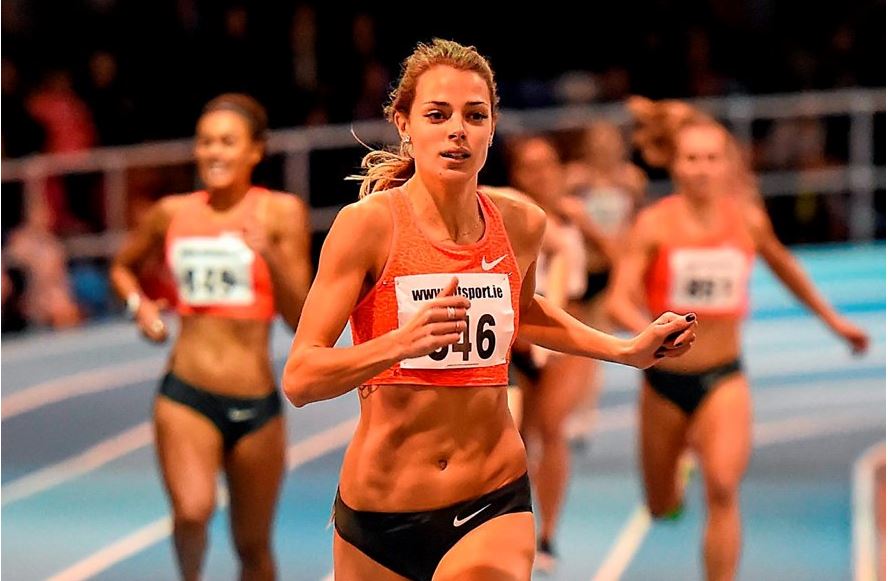 ………………………………………………………………………………………….. Melissa Bishop 2.01.42 800m 2017