Gym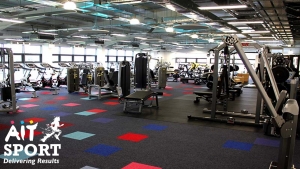 We have a dedicated team of instructors waiting to help you settle in and show you around our state-of-the-art facilities. Our friendly and highly qualified team will provide you with excellent guidance, advice and comprehensive fitness programmes to match your fitness level; from complete beginners to elite athletes. So whatever your personal fitness goal, we will help you along your journey.
Our large gym boasts over 70 diverse workout stations. Our top specification techno-gym equipment will ensure your workout is safe and effective. We have an wide range of both plate-loaded and traditional strength equipment, along with an extensive weight area. For cycling enthusiasts, we have a selection of the best bikes on the market including the Watt Bike, Keiser M3, Body Bike Connect and Airdyne so you are spoilt for choice.  If that's not enough, your membership includes access to over 20 group exercise classes each week and scheduled access to run on the IAAF indoor 200 metre track in the AIT International Arena. Please click here to view our Gym Equipment.
Indoor Cycling Studio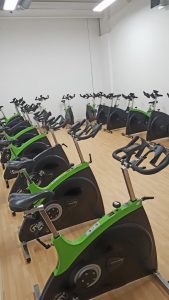 Our fully air conditioned indoor cycling studio has over 20 bikes and one committed instructor to put you through your paces.  The Body Bike Connect is a high quality indoor cycle with direct force measurement. The console shows watt output, cadence, heart rate and calorie expenditure, giving you immediate and valuable feedback on the intensity of your workout.  So book in now and start cycling to motivating music and get your heart pumping and calories burning.  Please click here to view the Equipment in our Spin Studio.
Group Exercise Studio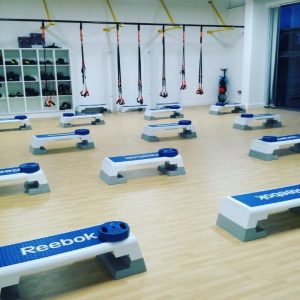 Our spacious fully air conditioned group exercise studio is equipped to provide an extensive range of fitness classes. We understand that working out as a member of a group can be fun and rewarding. We offer over 20 classes each week for members to choose from, and can guarantee you a comfortable environment, integrated sound system and an instructor who is passionate about the class they are teaching. Class timetables are available online or can be picked up at reception. Our member online services include a booking app allowing you to book into your favorite class up to 3 days in advance. Click here to view the Equipment in our Exercise Studio.
High Performance Training Area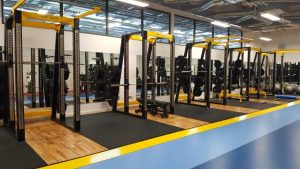 This state-of-the-art high performance training area is equipped with some of the best equipment that money can buy and will easily cater for a squad of up to 30 members. This world-class facility is available for hire with or without our qualified strength and conditioning instructors. With five elite power cages, elite reverse hyper and an extensive free weights area, you have to see it to believe it.  Please click here to view the Equipment in our High Performance Room
Changing Rooms
Male and female gym members have exclusive access to the changing rooms. Our modern and clean changing rooms include showers, hair dryers, lockers and benches. Located on the ground floor of the AIT International Arena, you use your member card to gain access. Lockers are provided and take a €1 coin (refunded). For more information on our changing room facilities, please ask a member of our team.