Rugby started back in 1983 through the efforts of a Welshman, Colin Evans. Subsequent to this, TUS Midlands (formerly Athlone Regional Technical College and sub-sequentially Athlone Institute of Technology AIT) were also founder members of the Irish Colleges Rugby Union formed in 1986.  Paul "Hammo" Hamilton joined Colin in 1987 as coach and when Colin left the college, Hammo persuaded Charlie Couper to become coach in 1988.  Apart from a two year period when Charlie was on sabbatical he has been coach of the rugby club right up to current times.  When Hammo left in 1996, Charlie persuaded Kevin O'Sullivan to become manager and they have worked together developing the rugby in Athlone I.T. for a number of years.  Others who played key roles are Geoff Kenny and Conor Galvin, both former students, have added to the coaching team in the past also.
Achievements:4
The main achievement for the rugby club has been the increasing number of students playing rugby which at its height totaled nearly 100 and has consistently been in excess of 50 players.  They have also had significant success in the competitions they have played in.  Their first success was winning the Senior Cup in 1992 when they overcame UU Coleraine in the final.  Two years later they lost a very close final to University of Limerick but many of those players returned to win the Senior Cup against a very strong Limerick I.T. team in 1997.  It was during this year that TUS fielded its first Freshers team.  Frustrated with the 'hit and miss' approach to building a team Charlie and Kevin saw the Freshers as the foundation of a successful team.
Developing Freshers becam fruitful because having lost the 1999 O'Boyle Cup (Freshers') final to UL (Paul O'Connell hoisted the trophy) and the 2000 final to Limerick I.T. AIT Rugby then entered their glory years. From 2001 to 2004 they won every student competition they entered – four successive Senior Cup Finals, Freshers' Finals, and All-Ireland Student 7s titles.  They also entered the Longford Floodlit Cup for club teams, losing to Tullamore in the final in the first year but going on to win the final three competitions and winning the trophy outright.  The Freshers then lost in the 2005 and 2006 Finals so appeared in 8 successive finals.  The Freshers have consistently performed for TUS losing the finals in 2008 and 2010 before winning the O'Boyle Cup again in 2013.  The Seniors have been building momentum winning the Senior Cup in 2010 and losing the last three finals so they have appeared in four successive Senior Cup Finals.  There have been 22 Senior Cup Finals since TUS's first success in 1991 and the college has appeared in 12 of them winning 8, and the Freshers have appeared in 11 of the O'Boyle Cup Finals since they were first formed.  We should also add that in 2013 the Second Team won the Division 3 title. We won the 2014 Senior All Ireland title. .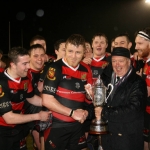 Player Success
We have had four players who have played for Ireland As – Ted Robinson, Peter Bracken, Chris Keane, and Ronnie McCormack – and three of these have Heineken European Cup medals, Peter with Wasps and Chris and Ronnie with Leinster.  We also, on two occasions, had six players who played for the Irish Colleges team at the same time.  The 2004 team featured the aforementioned Chris Keane as well as one of our future coaches Geoff Kenny, and we repeated the feat again in 2010.
Training
Generally we train on Monday nights, Tuesday morning in the gym, and Thursday for Freshers.
2022-23 Coaches:

Charlie Couper – Head Coach 
Assistant Coaches – TBC 
Scholarships
The college offers scholarships to talented rugby players who come to study at TUS Midlands. There are two levels of scholarship, GOLD & ACADEMY. Both levels include the supports listed below:
The use of our sports facilities
Physical therapy
Individual strength & conditioning coaching
Functional screening assessments
Academic support
Nutritional advice
Performance Lifestyle management
Sports Psychology support
Skill Acquisition Support
Athletic Development Funding (Gold Level only)
Second Level Schools Competition
We host a 7's Competition for Second Level Schools each year where potential TUS Midlands students can meet our coaches and also have the opportunity to explore our extensive campus and our world class sports facilities.
Tours
TUS Rugby has in the past gone on two major tours to the U.S. – one to the West Coast and the other to New England.  Semesterisation has made these tours more difficult but tours closer to home would still be part of our plans in the future.