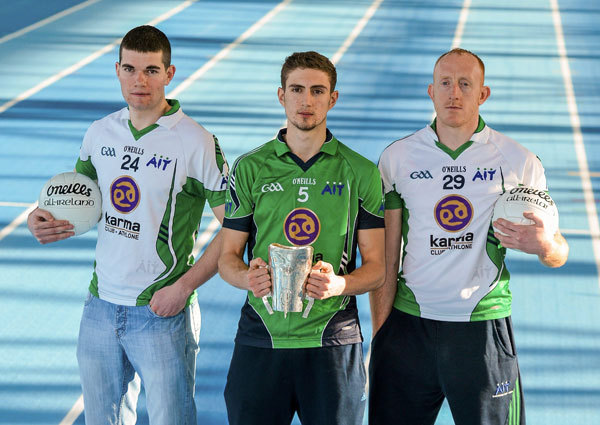 Welcome to the Athlone Institute of Technology GAA Website. AIT GAA was established in 1970 and over the last number of years has expanded in size, scope and influence over the period and has become one of the leading third-level institutions in Gaelic Games. AIT GAA believes that active membership in a sporting club has a positive and enhancing effect on students.
The various GAA teams within the Institute cater for a large number of students.  Their growth has mirrored the expansion of the Institute as membership of the Hurling, Camogie, and Gaelic football clubs has steadily grown over the years.  Handball and Ladies Gaelic football clubs are also established.  The  clubs cater for those who wish to compete at the highest level and at a recreational level. The GAA clubs comprise the largest membership of any sports club in the Institute.  AIT has become the sporting hub of the midlands and 2013 has seen AIT open its new Indoor Running Track, while also hosting the Sigerson Cup in the Men's Gaelic Football. AIT GAA offers all Gaelic games to all students. They include Hurling, Men's  Football, Camogie, Ladies Football and Handball. So whatever you Gaelic interest are you'll find it at AIT GAA!
Please contact our GAA Development officer Kieran Martin for all GAA enquiries-090-6468021.
Other Sports office contacts-
Gordon Brett – Sports and Recreation Manager (090) 6442565 gbrett@ait.ie
David McHugh – Assistant Sport & Recreation Manager (090) 6468022 davidmchugh@ait.ie
Stephanie Lennon – Sports Department Secretary (090) 6468222 slennon@ait.ie