Student Membership
To Sign-up Online Click Here: Membership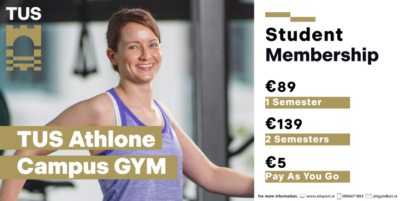 Membership includes access to the gym, classes, AIT International Arena, outdoor track, membership to the AIT running club and fit4life club.
Join today – call us on 0906471803
To Sign-up Online Click Here: Membership

Membership: Membership is extremely affordable and includes gym access as well as access to over 20 group exercise classes in the two studios each week and scheduled use of the indoor track in the AIT International Arena. Upon signing-up for membership, our team will take you through your own personalised fitness plan and complete an initial assessment to ensure your personal goals are being met. You will receive an introduction to our techno-gym equipment and shown how to use the various machines necessary for your personalised programme.
Public Membership: Public membership is available from €349 per annum or €35 per month for 12 months by direct debit.
Corporate Membership: Corporate membership rates are available for large organisations starting from €249, direct debit options are also available. For more information please email aitgym@ait.ie
Sports Teams: For membership rates for sports teams please email bookings@ait.ie
Pay As You Go: The gym and classes are also available on a pay-as-you-go (PAYG) basis, costing only €6 per visit for either one gym session or one group exercise class.
So, now the only decision left is for you to choose which membership and payment option suits you best! To Sign-up Online Click Here: Membership