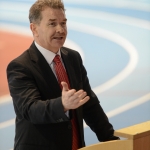 Congratulations to AIT President Professor Ciaran O'Cathain on his election to the Olympic Council of Ireland. Professor O'Cathain is also currently serving his second two year term as of President of Athletics Ireland.
Incumbent President Pat Hickey (Judo) was elected unopposed in Dublin last Monday for a new four-year term as President of the Olympic Council of Ireland (OCI). Mr Hickey is also the President of the European Olympic governing body and has overseen the creation of the first ever European Games which will be held in Baku in 2015. Former Irish International Race Walker Pierce O'Callaghan is the Director of Sport for this exciting event.
President Mr Pat Hickey
1st Vice President William O'Brien (Archery)
2nd Vice President John Delaney ( Soccer)
Honorary General Secretary Dermot Henihan (New Officer – Rowing)
Honorary Treasurer Kevin Kilty (New Officer – Clay Pigeon Shooting)
Executive Members:
Ciaran O'Cathain (New Member – Athletics),
Sarah Keane (New Member – Swimming),
Billy Kennedy (Cycling),
Thomas Murphy (New Member – Boxing ),
Robert Norwood (New Member – Snowsports),
Sonia O'Sullivan (Athletics) ,
Thomas Rafter ( Fencing)
Darren O'Neill (Boxing) , Athletes' Commission Chairman.