AIT Squad: TJ Forde, Craig Reddan, David Brook,s Neil Harney, Garvan Broughal, Stephen Relihan, Jason Lyons, Sean Flannery, Sean Brennan, Ian Sweeney, Daniel Cunningham, Brian Gill, Nicky Kelly, James Furlong, Segun Junaid, Junior Iyawe, Damilola Kusigbagbe and Idris Oyeniyi.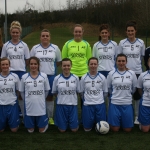 Our women also qualified for the final of the WSCAI Challenge Cup by defeating IT Tralee 2-1 again at home tonight. Caoilionn Beirne and Grace Reilly were the goal scoring heroes tonight. This win sets up a great end of season for the women who have also qualified for the Quarter Final of the WSCAI Intervarsity Cup where they will face UCC. The opposition, venue or dates for the WSCAI Challenge Cup Final are not known yet.
AIT Squad: Richael Timothy, Leah Philips, Michelle Cregg, Emma Curley, Caoilionn Beirne, Annie Dolan, Grace Reilly, Elaine Butler, Josephine Bardin, Aisling Cosgrove, Yasmin Rogers, Donna Masterson, Emma Hudson, Jessica O'Connor, Sandra Concannon, Lynsey Payne, Kayleigh Goldie, Susana Barousoa, Shaunagh Jackson, Leanne Boyle and Laura Scanlon.

Both the AIT women's and men's soccer teams had notable success today as they qualified for finals. First in action were the men who overcame a good IT Tallaght team on a 3-1 scoreline in the Umbro CFAI Cup Semi Final. The lads started slowly and fell a goal behind on 19 minutes. However by halftime Willow Parks Stephen Relihan had equalised and Salthill Devon player Jason Lyons had put our lads in the lead. David Brookes scored with about 10 minutes remaining to seal a place in the Umbro CFAI final for the first time since our last victory in 2004. IT Carlow will be unbackable favourites in the final but our lads are capable of a huge upset. The final will be played at the Athlone Town Stadium on the 4th of March, kick off time to be confirmed.