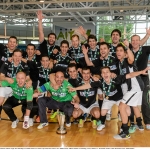 Eden Futsal 6-3 FCG Dublin
EDEN Futsal won the FAI Futsal Cup for the third time running at Athlone IT today after a thrilling 6-3 victory over FCG Dublin Futsal.
A tense game saw both sides come close before Gabriel Gheno turned home to opening goal midway through the first half to give Eden the lead.
FCG showed great composure to weather the early Eden storm and duly levelled when Pearce Traynor turned the ball home from an Eduard Pozuelo corner.
Brilliant individual play by Alex Gutu set-up Ben Maher as the second 17-year-old to find the net for Eden walked the ball into an empty net.
With so much experience behind them Eden reacted immediately and Rodrigo De Melo levelled matters when he steered home from close range after FCG keeper John Somers could only parry a strike from Rafael Rodrigues.
Rodrigues then produced a brilliant low strike to put Eden 3-2 up at the break although Pozuelo had fired narrowly with a clever counter attack for FCG. Eden keeper Marcin Fornal was almost beaten by an Ian Byrne effort that almost squirmed out of his grasp but Fornal recovered well to keep the ball out.
It was Pozuelo who made it 3-3 early in the second half when he turned the ball home from close range after a knock-down by Traynor and Fornal had to be at his best to deny Juan Bilbao and Byrne as FCG threatened on the counter.
The game was decided with five minutes left when De Melo put Eden back in front and then set up Joel Rocha to make it 5-3 with two and a half minutes left on the stop clock. Rocha added the final goal in the final minute as the brave FCG challenge faded late on.
Eden will go into the UEFA Futsal Cup this summer as they look to build on recent successes at that level.
EDEN FUTSAL: Marcin Fornal, Adam Kowalauk, Mateus Kowaluk, Joel Rocha, Gabriel Gheno, Selassie Neto, Robson Fernandes, Matheus Xavier, Edson Correa, Rafael Rodrigues, Rodrigo de Melo, Pedro Tavares, Ricardo Braga, Rafael Souto.
FCG DUBLIN: John Somers, Ben Maher, Keith O'Kelly, Sam Osho, Richard Maher, Ian Byrne, Juan Bilbao, Gary Naghten, Pearce Traynor, Sergiu Musteata, Alex Gutu, Eduard Pozuelo, Ararcari Vitorino, Rodrigo Pinilla Alonso.