A full house turned out in Athlone this evening to witness a fantastic night's athletics which saw three new stadium records and the star attractions Ashton Eaton, Brianne Theisen-Eaton and Tabarie Henry live up to their reputations.
The Olympic decathlon gold medalist and world champion, Eaton, won the 60m in a new stadium record at the AIT International Arena, with a time of 6:69. The American could only manage third however in the long jump. Eaton's wife Brianne Theisen-Eaton won the shot put with 13.46 and the high jump with 1.80.
In the much-anticipated Senator Eamonn Coghlan Mile, Kilkenny's Eoin Everard came home first in 4:03.08. Joe Warne and Cameron Boyek coming second and third in times of 4:04.04 and 4:04.40 respectively. Ireland has to wait little longer, however, for the first sub-four minute mile to be achieved in an indoor venue.
Tabarie Henry, the three-time World finalist in the 400m, proved his worth in the Athlone venue coming home in a time of 46.81. Timmy Crowe finished a close second, however, also achieving a new PB with 47.29.
In the men's 60m hurdles British athlete Alex Al Ameen set a new stadium record romping home in 7:97.
Waterford's Kelly Proper added to her growing reputation and her haul of medals winning the 60m (7:44) and the long jump (6.49), the latter a new stadium record.
In the opening event of the night British athlete, Ross Millington, claimed the 3000m.
AIT president, Prof. Ciarán Ó Catháin, said that he was "delighted" with the success of the night. "There was a fantastic atmosphere in the arena this evening, with people really looking forward to some wonderful competition, which is exactly what they experienced. This grand prix is part of a three year development plan for the AIT International Arena and we are confident that in 2015 and 2016, it will become an eagerly anticipated fixture in the international athletics calendar," he said.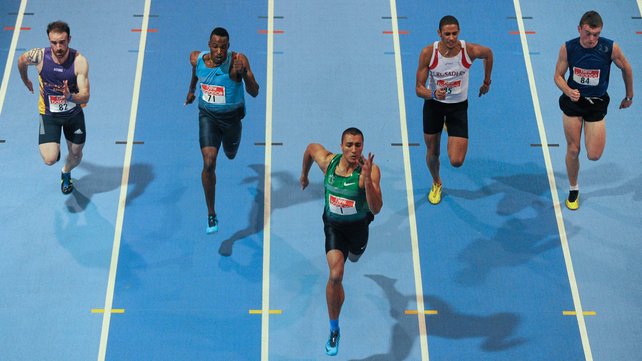 Summary Results (Full Results Below):
Senator Eamonn Coghlan Mile
1. Eoin Everard – 4:03.08
2. Joe Warne – 4:04.04
3. Cameron Boyek – 4:04.40
Men 3000m
1. Ross Millington – 8:00.32
2. Matthew Shirling – 8:06.58
3. Alex Bruce-Littlewood – 8:11.80
Women 60m hurdles
1. Eva Vital – 8:29
2. Sarah Lavin – 8:30
3. Lily Ann O'Hora 9:13
Men 60m hurdles
1. Alex Al Ameen – 7:97
2. Kourosh Foroughi – 8:40
3. Paul Byrne – 8.44
Women 800m
1. Katie Kirk – 2:03.58
2. Katie Snowden – 2:04.35
3. Clare McSweeney – 2:09.09
Men 800m
1. Karl Griffin – 1:50.47
2. Niall Touhy – 1:50.48
3. Darragh Greene – 1:51.06
Men 400m
1. Tabarie Henry – 46.81
2. Timmy Crowe – 47.29
3. David McCarthy – 48.57
Women 400m
1. Diane Ramsey – 53.87
2. Catia Azevedo – 54:53
3. Sinead Denny – 55:09
Women 60m
1. Kelly Proper – 7:44
2. Sarah Lavin – 7:57
3. Sinead Treacy – 7:88
Men 60m
1 Ashton Eaton – 6:69
2 Steven Colvert – 6:93
3 Damar Forbes – 6:94
Field
Women shot put
1. Brianne Theisen – 13.46
2. Sophie Parkinson – 11.77
Men shot put
1. Sean Breathnach – 16.27
2. Paul Collins – 14.12
3. Kieran Stout – 14.11
Women long jump
1. Kelly Proper – 6.49
2. Sarah Warnock – 6.20
3. Sarah McCarthy – 5.93
Men long jump
1. Daniel Bramble – 7.71
2. Paulo Sergio de Oliveira – 7.62
3. Ashton Eaton – 7.58
Men high jump
1. David Cussen – 2.05
2. Jamie Murtagh – 2.00
3. Keith Marks – 1.95
Women high jump
1. Brianne Theisen – 1.80
2. Cathriona Farrell – 1.75
3. Neasa Murphy – 1.65
Pics below by Stephen McCarthy of Sportsfile