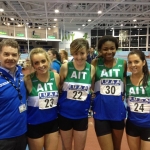 Twelve Indoor Athletics Intervarsity records were broken at the AIT International Arena last Friday. Two stadium records also fell as Cathriona Farrell improved her best at AIT from 1.80m to 1.81m in the High Jump and Ian Rodgers jumped 4.70m in the Pole Vault. (The full list of IUAA records recorded are listed at the bottom of this article).
Thomas Barr of UL was agonisingly close to dipping under the World Indoor 400m qualifying standard while Ciara Everard made a valiant but ultimately unsuccessful attempt at the 800m standard for the same event. Phil Healys 7.36secs in the womens 60m is a national U-23 record and Marcus Lawler also posted a national junior record with 21.26 in the 200m.
AIT had some outstanding performances on the day with the mens team improving their 2013 6th place by finishing best 'Institute of Technology' when placing 5th place overall. The women are ever improving and claimed a creditable 8th place. John Travers and Gerard O'Donnell claimed gold medals in the 1,500m and 60m Hurdles respectively. O'Donnell also won bronze in the 200m while Mullingars Vinny Connolly gleefully won his first intervarsity medal for AIT when he ran a brilliant race in the 3,000m. A final set of Bronze medals was won by the AIT mens 4 x 200m relay team of Lawrence O'Reilly, Conor Wilson, Sean Donnegan and Ronan Coyle. Great credit is due to the AIT coaches Sandra O'Cathain, Paul McNamara and Igor Postaniovs for AITs continued improvement.
Apart from the medal winners above the following won points for AIT in the team competitions: Daragh Renicks 1,500m, Sean Donegam 400m with a PB, Kevin Nolan 2,000m Walk, Dearbhail Foley Pole Vault, Sinead Touhy High Jump, GAA Scholarship holder Roisin Howley 3,000m and finally Dearbhail Foley, Monique Botha, Osiug Ugonoh and Aoife Hogan womens 4 x 200m.
President of AIT, Professor Ciaran O'Cathain said 'these performances show that by giving Irish Athletes world class facilities they will match it with world class performances. The senior national championships next weekend in the Arena will surely see many more records fall. I am also particularly delighted by the dedication and performances of the AIT teams in recent weeks'.
The full AIT team is listed below, well done to everyone.
60m: Laurence O'Reilly; Conor Wilson
200m: Conor Wilson; Ronan Coyle; Gerard O'Donnell
400m: Sean Donegan; Cathal McElgunn
800m: Cian Murray; Chris Malone
1500m: John Travers; Darragh Rennicks
3000m: Liam Brady; Vinny Connolly
60mh: Gerard O'Donnell
LJ: Nathan Cafolla; Adrien Gerard
TJ: Adrien Gerard; Kenny Ipkonmwosa
HJ: Cathal Sammon
SP: Samuel Oladunjoye; Aloysius Mutanea
Weight Throw: Samuel Oladunjoye; Aloysius Mutanea
4x200m: O'Reilly, Wilson, Donegan, McElgunn, Coyle.
Women
60m: Louise Holmes; Monique Botha
200m: Louise Holmes; Dearbhail Foley
400m: Osi Ugonoh
800m: Aoife Hogan; Osi Ugonoh
1500m: Carolyn Somorowsky
3000m: Roisin Howley
TJ: Monique Botha
HJ: Sinead Touhy
PV: Dearbhail Foley
SP: Carol O'Donnell
Weight Throw: Carol O'Donnell
4x200m: Foley, Botha, Hogan, Ugonoh.
IUAA Records Broken at the Championships
Women
Sarah Lavin UCD 8.36 60m Hurdles
Phil Healy UCC 7.36 60m
Ellie Hartnett UCD 4:34.94 1,500m
Cathriona Farrell DCU 1.81m High Jump (AIT Stadium Record)
Sarah Mc Carthy DCU 5.83m Long Jump
Claire Wilkinson UU 3.95m Pole Vault
Men
Marcus Lawler IT Carlow 21.26 200m
Thomas Barr UL 46.97 400m
John Travers AIT 3:42.66 1,500m
Mark Kavanagh, Timmy Crowe, Dara Kervick DCU, Eoin Mulhall DCU 1:28:21 4 x 200m Relay
Kourosh Foroughi DCU 3691 Pts Combined Events
Ian Rodgers DIT 4.70m Pole Vault (Stadium Record)