>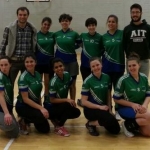 Congrats to our womens Volleyball and Soccer teams who had great victories earlier this week.
AIT Womens Volleyball beat Griffith College Dublin 3-0, set scores 25-12, 25-13, 25-20
AIT Womens Soccer beat DCU 5-2 in the Challenge Cup Quarter final. They now have a home tie against IT Tralee in the Semi Final.